.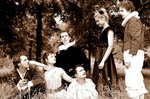 Theatre plays in museums and castles
We perform professional theatre plays to revive places with a cultural heritage

Since 2012, our professional troupe has specialized in performances in museums, castles and other sites with strong cultural value :
Musée et Institut des Lettres et Manuscrits in Paris / Musée Carnavalet / Histoire de Paris / Crypte archéologique in Notre-Dame de Paris / Maison de Chateaubriand in Chatenay-Malabry (92) / Musée Delacroix / Castle of Auvers-sur-Oise / Univers impressionniste / Air-raid shelters in Bois Colombes (92) / Jardin des Enfeus / Maison de la Boétie and Chapelle des Pénitents Blancs in Sarlat (24) / Château de Puymartin in Sarlat (24) / Château de La Cousse in Coulaures (24) / Festival d'art contemporain Grisy Code in Grisy / Les Plâtres (95)

An exchange of favors is at the origin of our approach: our highly professional performances increase the interest of the public for these sites which are revealed in a different light, whilst their atmosphere is conducive to rendering the texts we are transmitting.
We adjust our shows to the setup, the theme and the demands of the venues. All our performances use historical costumes and are based on authentic texts. Our shows are accurate adaptations of titerary works, plays extracts, speeches, letters, accounts from people that have played a minor role in history as well as those who have left their mark :
Molière, Diderot, Montaigne, Napoléon, Charlotte Corday, Louis XVI, Baudelaire, Rimbaud, Victor Hugo, Camille Claudel, Georges Sand, Charles Péguy, De Gaulle, Jean Cocteau, Edith Piaf...

We possibly perform indoors or outdoors, in 3 different setups, on request :
• In the original way of a theatrical stroll inviting the audience to a journey through history whilst visi$ng the venue.
• On a stage with a sitting audience
• In the form of sketches during a cocktail reception, a meeting or a dinner.
View tour dates
.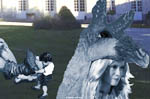 Donkey Skin and Tom Thumb
A surprising and mysterious adventure of which children are the heroes!
Travel in the enchanted world of two of the most famous Perrault's tales, follow the theatrical trail trough the magnificent park of Laborde Saint-Martin Castle!
You will immerse yourselves in the story of Tom Thumb, and then of Donkey Skin, who will take old and young alike along with them towards more and more surprises...
To help Tom Thumb to find his way again, to protect Donkey Skin during her flight, will be the deeds our little heroes will have to accomplish all along the trail!
The interactive show that will bring happiness to the whole family!
View tour dates
.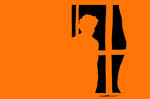 The Misanthrope
The Misanthrope is primarily the adventure of a man in revolt against the society in which he moves. This society is first and foremost the one of the royal Court, at the time when Molière was writing, when Versailles, with all its political, artistic and cultural exchanges, was this Court.
Today things have somewhat changed… Yet everybody knows how the Master of Comedy could cross centuries without losing anything of his popularity.
Why? Because his tales apply to the whole mankind, to it's unchanging vices: miserliness, treachery, jealousy, vanity and selfishness… This mould gives the material for a never dating comedy.
The Misanthrope is arrogance against hypocrisy, hypocrisy that La Rochefoucauld defined as "homage paid by vice to virtue".
Nowadays, if this maxim is still pretty well illustrated by a milieu, it's for sure by the artistic world and it's intellectual Paris bias. It's the perfect frame and background for Célimène to be born again, including a general mise en abyme of Art.
Jean-Baptiste Siaussat
Director
Voir les dates de tournée
.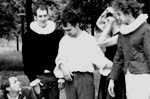 La Belle Epoque
This production is more than an obligation to remember, it depicts very accurately the reasons that led to the horror of the Great War, revealing the "inexorable process" of this world tragedy. The approach is humanistic and subversive and defends ordinary people against power and the institutions, it goes against what could be expected of a commemoration. This is not "a memorial to the glory and apotheosis of the victims of the massacre but a vehement protest against the spirit of war".
It is a warning to our contemporaries who have to fight against the abuse and the insidious manipulations of the power. It unveils many surprising similarities between our time and a hidden and authentic face of history. Withe horror, we learn about the origins of the great tensions between populations that inexorably led to the colonial conflicts.
There is nothing spared.
View tour dates
.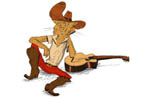 Puss in Boots
One of the most entertaining, famous and chivalrous tales for adults and children alike: the story of a smart cat who uses trickery and cheating to deliver power, fortune and freedom love of a prince to his ill-born and penniless mistress...

The Devil with Three Golden Hair
Exciting tale of the Brothers Grimm that has a fantastic, romantic and equally funny aspect: The hero is a young boy who, to get the hand of the princess, must go to the ends of the world to wrest from the Devil three golden hair...
View tour dates
.


Tour dates

Theatre plays in museums and castles
•
16 September 2017 - "Châteaubriand" (2 shows) - Maison de Châteaubriand - Châtenay-Malabry (France-92)
•
17 September 2017 - "Chateaubriand" (2 shows) - Maison de Châteaubriand - Châtenay-Malabry (France-92)
•
11 November 2017 - "Châteaubriand" (2 shows) - Maison de Châteaubriand - Châtenay-Malabry (France-92)
•
12 November 2017 - "Chateaubriand" (2 shows) - Maison de Châteaubriand - Châtenay-Malabry (France-92)
•
18 November 2017 - "Alexandre Le Bruyant" - Salle Mermoz - Bois-Colombes (France-92)
•
22 January 2018 - 10h00 - Lycée Fresnel - Paris (France-75)
•
21 April 2018 - "Puss in Boots" - Thenon (France-24)
•
27 May 2018 - "Puss in Boots" - Apchon (France-15)
•
2 & 3 June 2018 - "Châteaubriand" - Maison de Châteaubriand - Châtenay-Malabry (France-92)
•
2 & 3 June 2018 - "La Belle Epoque" - Maison de Châteaubriand - Châtenay-Malabry (France-92)
•
17 June 2018 - 14h30 - "La Belle Epoque" - Domaine de Villarceaux - Chaussy (France-95)
•
3 August 2018 - "Puss in Boots" - Terrasson (France-24)
•
5 August 2018 - "Puss in Boots" - Château de l'Herm (France-24)
•
11 August 2018 - "Puss in Boots" - St-Victor La Rivière (France-63)
•
13 August 2018 - "Puss in Boots" - Château de Hautefort (France-24)
•
20 August 2018 - "Puss in Boots" - Château Laborde St-Martin (France-41)
•
21 August 2018 - "Puss in Boots" - Château Laborde St-Martin (France-41)
•
22 August 2018 - "Puss in Boots" - Château Laborde St-Martin (France-41)
K Samka
Non-profit-making organisation
12 rue de l'Abbaye des Augustins
F - 24220 Saint-Cyprien

Tél +33 (0)6 11 71 57 06Tél +33 (0)6 11 71 57 06
karinne@ksamka.com




Siret : 799 642 582 000 16 - APE : 9001Z
Performing arts license n°2–1075619 delivered on June 12, 2014
Join the mailing list
Copyright - All rights reserved
Alphabet designer : Christophe Avril
Logo designer : Dyssia Loubatière
Website translator : Hélène Hirsinger and Pierre Cornouaille
Web designer : François Tomsu / image-virtuelle.com
Legal Notice